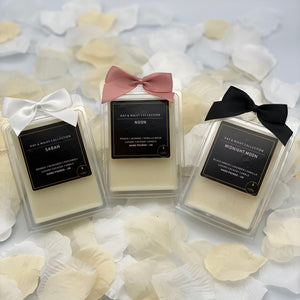 The Day & Night collection from Scent Story co features fragrances that inspire your day at any time. Experience the scents with these wax melts.
This is a 100% natural wax candle made from Cocosoy.
All fragrances used are vegan and free from parabens.
There are three fragrances to choose from:  Sabah (the Arabic for morning), Noon and Midnight Moon.
Sabah: A scent of joy and opportunity. Start your day the right way with this fresh combination of citrusy orange and bergamot, shaded with sage and Osmanthus and polished with patchouli, olibanum and vanilla. An uplifting scent designed to lift your mood and brighten your day.
Top notes: Orange, Bergamot
Middle notes: Sage, Osmanthus, Leafy Greens, Chamomile
Base notes: Patchouli, Olibanum, Vanilla
Noon: Earthy notes of black pepper are brightened by the sweet fruity tones of peach and plum that gently move towards an intoxicating white floral bouquet of tuberose, jasmine, ylang ylang and lily. To close, a warm bed of vanilla musk and amber awaits, wrapped in dark patchouli and sandalwood.
Top notes: Black pepper, Peach, Plum
Middle notes: Tuberose, Ylang Ylang, Lily, Patchouli, Sandalwood
Base notes, Jasmine, Vanilla Musk, Amber
Midnight Moon: A scent that helps unwind and relax. A unique and complex blend of rustic amber and French lavender with added notes of tonka bean, vanilla and clary sage.
Top notes: Lemon, Bergamot
Middle notes: Lavender, Clary Sage
Base notes: Tonka Bean, Vanilla, Amber
Dark Night - Limited edition:Top notes of grapefruit, lemon and rum leading into a heart of black lily, rose and geranium. A twist of pomegranated backed with herbs and spices lie on a luxurious base of black amber, cedarwood, sandalwood and patchouli.

Top notes: grapefruit, lemon, rum, rosemary, galbanum
Heart notes: black lily, rose, geranium, pomegranate, clove, ginger, nutmeg, thyme
Base notes: black amber, cedar, sandalwood, patchouli, moss, vanilla